Post by Akinsha on Jun 1, 2014 11:35:27 GMT
Seven Ninja Swordsmen of the Mist
---
The Seven Ninja Swordsmen of the Mist are an elite group of sword wielding shinobi that work for the Mizukage and do work for said Mizukage. These swordsmen are extremely skilled and were elected because they survived the Bloody Mist's graduation exams. Each swordsmen is given one of the seven swords that have already been created for the swordsmen, based on the stats they will be able to use different weapons. Below you will see the current members, swords, and open spots for the Seven Ninja Swordsmen. If you need to ask any questions or want to join, please ask Akinsha. These Seven Ninja Swordsmen can only be elected by the current Mizukage,
Yuki Atsu
.
---
Leader:
Current Mizukage (
Yuki Atsu
)
Members:
WIP
---
Swordsmen & Swords
---
Kubikiribōchō:
(Executioners Blade) A massive broadsword shaped like a giant butcher knife, the blade itself has two cut outs, a circle close to the top and a semi-circular one nearer the handle, that aptly fit the sword's purpose of decapitation. The latter notch allows a strap to be wrapped around the weapon, making it easier for the user to carry. Its extremely long handle is also detachable to further aid transportation and then reattached when required for combat. Like the other weapons employed by the Seven Ninja Swordsmen of the Mist, the sword possesses a unique power, this being its ability to reform itself using the iron harvested from the blood of its victims. This regenerative process takes place almost instantaneously and is capable of bringing the weapon back to its original condition no matter how severe the damage is, from a simple chip or nick to a complete separation of over half the blade. The sword also possesses high durability and is quite strong, able to cut through almost anything.
Current Wielder:
Guren Enjeru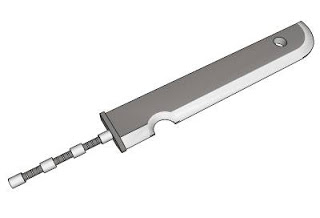 ---
Nuibari:
(Sewing Needle) The blade itself assumes the form of a narrow longsword, that greatly resembles a large needle, with a long length of thin wire-mirroring thread, tied through the eye located at the base of its hilt. This sword is said to possess the ability to pierce all and stitch them together, demonstrated through its ability to effortlessly penetrate multiple targets in a single thrust and then quite literally stitched them together in substantial bundles, by simply pulling the attached wire taut. A capable user can even throw the sword with the intent of piercing a line of multiple enemies, before catching the needle at the other side and repeating the process at different angles, in order to create knots of corpses with the wire passing through the entirety, effectively creating bundles of bodies at various points along the length of the thread.
Current Wielder:
Guren Kurenai
---
Samehada:
(Sharkskin) A large sentient sword, comparable in size to the Kubikiribōchō. Though mostly wrapped in bandages, Samehada's construction is atypical in that its actual blade is comprised from a series of downward facing scales running along the entirety of its length until its hilt, at the base of which is a small skull. Samehada grows larger in proportion to the amount of chakra it absorbs, causing its scales to become so long that they ultimately resemble shark fins and its mouth, located at the tip of the blade, to become even more pronounced. Keeping Samehada wrapped in bandages apparently helps to inhibit this growth to a certain extent. Samehada is unique for being a sentient weapon that gains nourishment from the chakra of others and as such, the blade is at its happiest when engorged with chakra that possesses both a distinctive and pleasant flavour. However, it has shown displeasure towards fire-natured chakra. Being capable of conscious thought, Samehada chooses its own user, an exclusive process that has often resulted in it being thought of as notoriously picky. If someone it disapproves of attempts to wield it, spikes protrude from the handle in order to force them to release their grasp, at which point Samehada will make efforts to return to its chosen owner. As the blade is made up of scales, it inflicts injuries through shredding or shaving what it comes into contact with, rather than just cutting the object in question. This flaying effect is similar to a shark's skin, hence the sword's name. While it ordinarily remains rigid, Samehada's hilt is able to stretch and bend to great extent, allowing the weapon to be used like a flail. While the ability to absorb chakra is useful in defeating opponents, it is also beneficial to the user as well. Samehada has the ability to transfer the chakra it has absorbed to the wielder by partially fusing with them, so it can be used to either regenerate injuries or replenish their chakra reserves. This makes the user of this sword extremely difficult to defeat.
Current Wielder:
Reserved (Kami)
---
Kabutowari:
(Helmet Splitter) The sword itself consists of a giant axe and hammer, linked end-to-end by a flat thin leather-like rope, which together are referred to as a bluntsword that is said to be able to break through any defense. Although the length of cord means each weapon can be utilized individually, to cut and crush obstructions respectively, their true strength lies in their capability to be employed in conjunction with one another. When facing a particularly difficult or seemingly impenetrable defense; the wielder can first attack by striking with the axe, before slamming the hammer downwards onto its blunt backside, thus using the blade like a wedge to drive straight through the offending obstacle and into the desired target located behind.
Current Wielder:
OPEN
---
Shibuki:
(Splash) The blade utilizes various explosive tags, contained within a substantial scroll, in order to incorporate explosions into the user's own swordsmanship, earning it the title of blastsword. The sword itself features two distinct sides, with a narrow cutting edge located down the entirety of one length and a wide platform section on the other. The aforementioned scroll unrolls along this latter side, sliding downwards and resting atop its surface to form an individual segment comprised from numerous explosive tags, which separates from the remainder upon detonation. Only once the desired opponent comes into contact with the platform, do the explosive tags finally ignite and then detach, providing a small opportunity for the user to escape the devastating blast radius, while simultaneously compensating for any resultant recoil. The sword is seemingly able to reload another segment of tags onto the platform, automatically after each strike.
Current Wielder:
OPEN
---
Kiba:
(Fangs) A pair of swords, each with slim and straight double-edged blades. Both blades also have an upward-curved bladed prong near the tip of one side of blade and another one near the base of the blade's other side. They each have been imbued with lightning, displaying enhanced cutting power in a manner similar to the high-frequency vibrations of lightning-based chakra flow. It is this capability that has resulted in these being claimed as the sharpest swords in existence. they allow the user to transform and manipulate lightning freely. They also boost the user's attack power to the highest limit, which allows them to perform high-level Lightning Release techniques with a minimal cost of chakra. These blades can channel the user's own respective lightning techniques or conduct natural lightning. As long as there is natural lighting to access, the user can battle continuously without tiring and launch lightning from the sky to strike anywhere within a large area. They can also be connected at the hilts to form a larger double-bladed sword. They are able to perform various long-distance, powerful, and defensive techniques, either lightning-based or imbued with it. Even without lightning, they are very dangerous in battle, able to be used in combination with agile spinning movements, sweeping through the targets while the user also rotates.
Current Wielder:
Kiku Shizusuzu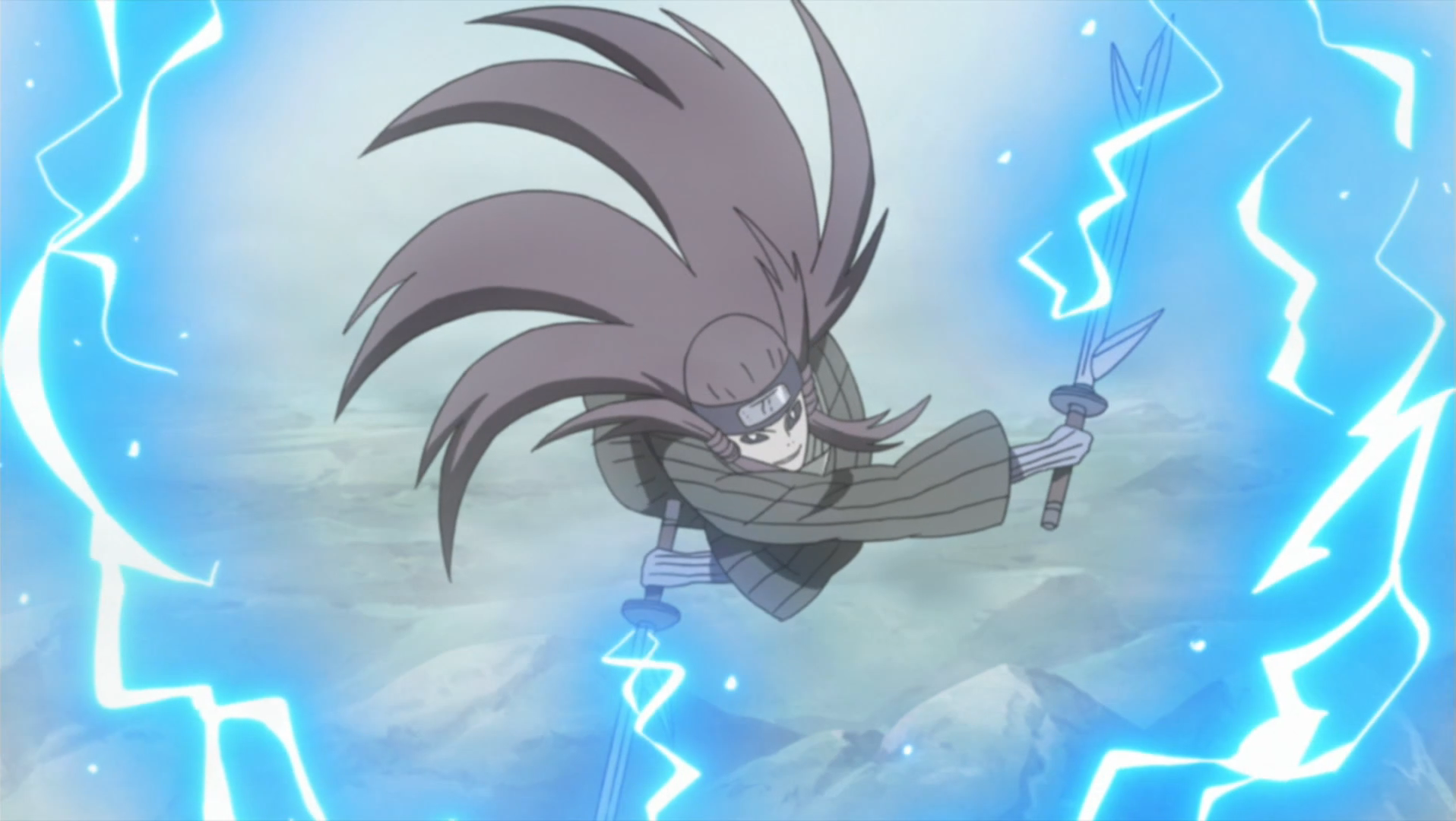 ---
Hiramekarei:
Hiramekarei is a double-handed sword used by the Seven Ninja Swordsmen of the Mist. The weapon features a wide, flat blade with two curved indentations near its base, creating a sort of cross-guard. Two handles are connected to one another by a short length of cord, earning it the title of twinsword. The overall sword looks like a flounder fish in shape and is also apparently very heavy. When unleashed, it emits chakra from the holes found at the top which coats the entire blade. The sword is capable of storing chakra and the two holes at the tip of the blade emit it on command. This can then be formed into various weapons, including a hammer or a longer sword. The size of the resulting weapon appears to depend upon the amount of chakra stored up beforehand, meaning a larger quantity will be met with a similar increase in the weapon's ultimate size. These weapons are also formed with notable speed.
Current Wielder:
OPEN
---
Name:
7 Kenshi Kyūkyoku no Daishingu no Jutsu - Seven Swordsmen Ultimate Dicing Technique
Classification:
Ninjutsu, Taijutsu, Hijutsu, Weaponry
Type:
Offensive
Range:
Close (0~5m)
Hand seals:
Dragon → Horse → Tiger
Requirements:
Seven Ninja Swordsmen of the Mist member, all other Seven Swordsmen.
All of the seven swordsmen cast the hidden mist jutsu simultaneously, making the mist extremely thick. Next, each swordsmen takes a turn attacking their target at a different angle each cut.
---
Name:
Kubikiribōchō: Chōkyori Dantō - Executioner's Blade: Long Distance Decapitation
Classification:
Taijutsu, Hijutsu, Weaponry
Type:
Offensive
Range:
Close (0~5m), Long (10m+)
Hand seals:
Hare → Tiger → Snake
Requirements:
Executioner Blade, Seven Swordsmen Member.
The wielder of the Executioner's Blade swings the handle of the blade, using the detaching ability that is part of this blade the actual blade flies off the handle and cuts the targets head off, or whatever appendage or object the wielder was aiming at. This move can be dodged tough.
---
Name:
Nuibari: Jigumo Nui no Jutsu - Sewing Needle: Earth Spider Technique
Classification:
Taijutsu, Hijutsu, Weaponry
Type:
Offensive
Range:
Close (0~5m), Mid (5~10m)
Hand seals:
Snake → Rat → Hare
Requirements:
Sewing Needle, Seven Swordsmen Member.
Using the Nuibari, the user buries the sword's attached razor sharp wire string underground. Once a person stumbles into the area, they pull the string to trap their feet in a formation of wire, cutting them off. The power and force behind the wires can be controlled by the user by applying additional strength.
---
Name:
Samehada: Same no Yugo no Jutsu - Sharkskin: Shark Fusion Technique
Classification:
Hijutsu, Weaponry
Type:
Supplementary
Range:
Close (0~5m)
Hand seals:
Dragon → Snake → Rat
Requirements:
Sharkskin, Seven Swordsmen Member.
The user of Samehada infuses their chakra with Sharkskin's chakra. When they do this they transform into a larger, faster, scarier looking anthro-shark humanoid creature that has traits of a shark and of a human. When in this form you get
+1 Speed
and
+1 Force
for
3 posts!
---
Name:
Kabutowari: Shōgekiha Koshō no Sakusei-sha no Jutsu - Helmet Splitter: Shock Wave Fault Creator Technique
Classification:
Taijutsu, Hijutsu, Weaponry.
Type:
Offensive
Range:
Close (0~5m), Mid (5~10m)
Hand seals:
Bird → Monkey → Horse → Dog
Requirements:
Helmet Splitter, Seven Swordsmen Member.
The wielder of Kabutowari smashes the ground with the giant hammer part of the sword, and then they strike it with his axe part afterward. When this happens, when the hammer hits a giant shock wave goes through the ground in a mid range, then when the axe is hit a fault goes down in whatever direction they hit the axe.
---
Name:
Bakutō Jutsu: Happa Rokujūshi - Blastsword Technique: Blasting Bridle Repeating Death
Classification:
Taijutsu, Hijutsu, Weaponry.
Type:
Offensive
Range:
Close (0~5m)
Hand seals:
Dog → Hare → Dragon
Requirements:
Blast Sword, Seven Swordsmen Member.
Unravelling a large length of the explosive tag roll from the Shibuki, the wielder sends it towards his enemy in a circular motion cutting off any escape route and engulfing them in a wide-spread explosion.
---
Name:
Kiba: Ikazuchi no Kiba - Fang: Fangs of Lightning
Classification:
Ninjutsu, Hijutsu, Weaponry
Type:
Offensive
Range:
Close (0~5m), Long (10m+)
Hand seals:
Dragon → Bird → Hare → Rat
Requirements:
Fang Sword, Seven Swordsmen Member.
By drawing together their twin swords, the wielder of the Kiba swords can send an electrical essence into the clouds, allowing them to create lightning strikes in any desired location.
---
Name:
Hiramekarei: Tokudai Heitan Chakurahanmā - Twin Sword: Oversized Flattening Chakra Hammer
Classification:
Nintaijutsu, Hijutsu, Weaponry
Type:
Offensive
Range:
Close (0~5m)
Hand seals:
Dragon → Hare → Rat
Requirements:
Twin Sword, Seven Swordsmen Member
The user puts their chakra into their blade that changes the sword to a giant, incredibly heavy, chakra created hammer. This hammer stays for
2 posts.